Feather Wrap Foam Cushions
With a removable foam core, inside a duvet style feather or feather and down filled cambric jacket, these ultimate cushions are ideally suited to seating. They give the best sit by combining fillings to make best use of their natural characteristics. A minimal need for plumping is required. These cushions are also known as Feather Wrap Foam Core Cushions.
De Quilled Duck Feather Cushions
DeQuilled feather filled products are noticeably different from standard feather due to the process of how the feather is de stalked. The method used removes most of the feather quill, therefore ensuring that it is significantly more comfortable. Curled feathers also have greater lofting properties than a standard feather cushion.
Feather & Down 90/10% or 70/30% Cushions
The down content in this mix provides more noticeable bounce and fullness to the appearance of cushions and pillows than you would acquire from an all feather product. However the added feather content retains the support for prolonged usage.
51% Down & 49% Feather Cushions
The 51/49 mix of down and feather has the luxury of fantastic lofting and possesses the heat retention characteristics of pure down. With the addition of feather with its curled properties, this also gives weight and support to the cushion/pillow.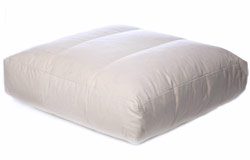 Feather wrapped foam core cushion aka Feather Wrap Foam Core Cushion, made to fit your existing covers.
Example of cost: Size: 24" x 24" x 4" deep (60cm x 60cm x 10cm) cost £33.60 EX VAT.
(Please note: When ordering these cushions, they will have a natural loft which will give a plump 'lived in look' and feel, as picture above shows. When ordering a cushion, match your seam to seam (or piping to piping) measurement only and the loft will follow. These are not flat boxy cushions.)