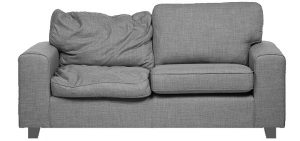 Quallofil® Blue: Stops Ocean Plastic
The Quallofil Blue (Eco-Friendly) comes with same feel and look as other Quallofil Fusion products and comes with fibre filling with an environmental benefit with the same exceptional comfortable benefits.
The Fibre's keep their shape and the filling fibres in this product are made using recycled plastic from Plastic Bank, who are globally recognised as one of the most important solutions to stop ocean plastic and at the same time are helping people living in poverty to build a better future.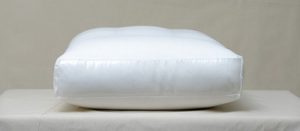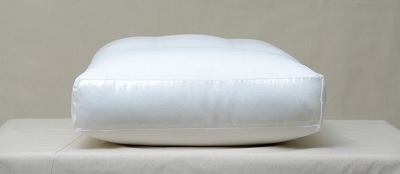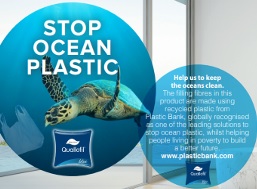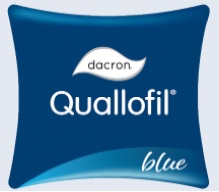 ---
– Stop Ocean Plastic Filling fibres made using recycled plastic from Plastic Bank, recognised as a leading solution to stop ocean plastic, whilst helping people living in poverty to build a better future. www.plasticbank.com.
– High technology filling fibres cushions will last a long long time and maintain its original appearance.
– Cushion filling has been scientifically developed to give firm, controlled support.
---
Quallofil Blue Scatter Back Cushions
Quallofil Blue is also available as a Scatter Back Cushion, many Back cushions on sofas these days are made with Scatter Cushions rather than the more common Back Cushion shape with a border.
To get a quote for these you can email or call us the sizes of your covers on the Width x Length (Top to Bottom) and we can quote you today. (Scatter Back cushions have more filling than your standard decorative scatter to take the more pressure from using them bas Back Cushions).
Why Do Customers Choose Quallofil Blue cushions?
Due to the technology of the Fusion of 2 advanced fibres for extra and premium rate resilience and long lasting performance the cushions are chosen by customers who have had Quallofil before and wish to buy again or new customers reading about Quallofil and the brilliant reviews. The bonus of the product being Sustainable and Eco-Friendly is a huge benefit to an already great filling.
Quallofil Blue Fibre springs back to their original shape, time after time and retain resilience and are of a high Quality of Fibre. Quallofil Blue is renowned as the best Fibre cushion available and lasts longest out of all choices involved with Fibre and because to its excellent product features, Quallofil Blue combines the comfort and full look of fibrefill with durability of foam.
Ordering Quallofil Blue
To order Quallofil Blue cushions from us, you can either call us or email us today. We do not have a basket as we like to make sure personally you are getting the correct Quallofil Blue cushions for a seat or back cushion. We will also like to personally check your measurements with you before any payment has been made. We are always on hand to help and answer any questions.
Quallofil Blue FAQS
What is Quallofil Blue?
Quallofil Blue cushions are a superior cushion for a plump look, comfort and luxury but with an Eco-Friendly bonus. Quallofil uses recycled Plastics in with the Fibre to promote a greener Earth. Quallofil Blue cushions are the ideal cushions if you are looking to purchase cushions that offer the full look seen in many sofa's and the luxurious feel whilst being durable, having the Quallofil Blue Cushions for a good while to come.
How Do I Get A Quote for Quallofil Blue Cushions?
Our prices are monitored regularly and we at the Cushion Supplier pride ourselves in our superior personal customer service and very competitive price, we are a family run business and want to keep an honest price for our customers whilst not substituting on quality. We like to make sure our customers are always happy with our price and service and this is shown with our many 5 STAR reviews across the internet. The price of Quallofil Blue cushions is based on the size of the cushion you wish to order to fit and fill your cushion cover. You can easily use our online calculator to find out exactly how much the Quallofil Blue cushions you will cost including VAT and Carriage.
How Do I Purchase Quallofil Blue Cushions From the Cushion Supplier?
Unlike many of our competitors, we do not have a basket or online purchasing tool as buying cushions can be a tricky process and we like to personally talk you through the process in buying your Quallofil Blue Cushions so we can assure we are getting these right for you. You can call us or email us with your details and one of our staff will be more than happy to help.
Why choose Cushion Supplier When Buying Quallofil Blue?
We have provided cushions to customers throughout the UK for over 10 years now with a lot experience in our family run business of around 40 years and we are proud of our many 5 STAR reviews that separates us from other companies across the internet and personal service for the excellent Quallofil Blue cushions we provide. Providing a quick turnaround via our DPD Local couriers, personal service and competitive prices we are confident that when you are looking for Quallofil Blue cushions, you will be over the moon with your new look sofa and our 5 STAR service.
My Cushions Are Bulbous And Are Thicker Than My Seam To Seam Border?
Quallofil Blue cushions are available in Seat and back cushions and are made bespoke to your sizes either based on your seam to seam (or piping to piping) measurements of your cushion covers. It is important to follow the seam to seam border (or thickness) measurement as the fill weight of the Quallofil Blue Cushion will be taken of by your own cover sizes and the finished cushion will naturally be fuller, bulbous and plumper than your border size given. Quallofil Blue isn't a stocked item and all cushions are made for you and for your cover.
How Do I Know If I Have Quallofil On My Sofa Seats or Back Cushions?
Quallofil is a branded Fibre and all Quallofil Fibre cushions that are made are finished with a sewn label with the Quallofil branding to confirm this is the filling you have and the same would occur with the brand new Quallofil Blue. By the eye Quallofil Blue does look like any other Fibre but intertwined Recycled Plastic Technology splits itself a part from all other Fibres and makes the Cushion the durable and premium quality cushion that customers keep coming back for.