The Fibre Wrap Foam Core cushion is described by us as a 'Best of Both Worlds' cushion in terms of having Fibre/Polyester and Foam. Giving you the soft springy feeling of Fibre and the Foam Core in the centre provides the Cushion with more spring back and less maintenance required. It is seen as a good middle ground for Customers wanting the springy and comfortable feeling of Fibre and stability of Foam. A lot of Customers that have Hollow Fibre, Wellmans Fibre or any other 100% Polyester cushion currently move over to the Fibre Wrap Foam Core as are very pleased with the final results after dealing with a collapsed and a cushion that any kind of plumping doesn't help any more.
Fibre Wrap Foam Core can be used for Seats and Back Cushions on the sofa and if used as a Seat, we use a Medium Density Foam Core to ensure the full look and springy/comfortable feeling of Fibre is kept with the Cushion but if we had them used as Backs, we would use a Super Soft Foam to allow more give as these are only leant against rather than sat on.
Ordering Fibre Wrap Foam Core Cushions
To order Fibre Wrap Foam Core Cushions from us, you can either call us or email us today. We do not have a basket as we like to make sure personally you are getting the correct size Fibre Wrap Foam Core cushions for a Seat or Back cushion. We will also like to personally check your measurements with you before any payment has been made. We are always on hand to help and answer any questions.
If you are not sure on your measurements we do offer a service where you can send your cushion covers for measuring and filling, a lot of customers use this option to take any grey areas and make sure the cushions fit well and they are able to just put the cushions on the sofa when they are finished and delivered back. All we would ask you is to include a cover letter with your name, delivery address & contact details with a short passage about which filling you would like and how many to each cover. We will then call you back for your peace of mind right away and then reaffirm a quote with you based on our measurements and we do not do anything without your say so.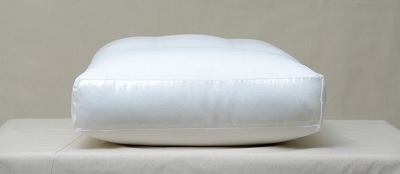 Fibre Wrap Foam Core Cushion FAQS
What is a Fibre Wrap Foam Core Cushion?
The Fibre Wrap Foam Core is a cushion with Fibre filling and a Foam Core sandwiched in the middle that is not visible. The Fibre is kept in their own separate jackets on the top and bottom of the cushion and a compartment in then sewn into the middle for the Foam to slip inside. The Foam is usually a Medium Density for a Seat cushion and a Soft Density to allow the feeling of Fibre not to be compromised but gain stability.
How Do I Get A Quote for Fibre Wrap Foam Core Cushions?
Our prices are monitored regularly and we at the Cushion Supplier pride ourselves in our superior personal customer service and very competitive price, we are a family run business and want to keep an honest price for our customers whilst not substituting on quality. We like to make sure our customers are always happy with our price and service and this is shown with our many 5 STAR reviews across the internet. The price of Fibre Wrap Foam Core Cushions is based on the size of the cushion you wish to order to fit and fill your cushion cover. You can easily use our online calculator to find out exactly how much the Fibre Wrap cushions will cost including VAT and Carriage.
How Do I Purchase Fibre Wrap Foam Core Cushions From the Cushion Supplier?
Unlike many of our competitors, we do not have a basket or online purchasing tool as buying cushions can be a tricky process and we like to personally talk you through the process in buying your Fibre Wrap Cushions so we can assure we are getting these right for you. You can call us or email us with your details and one of our staff will be more than happy to help.
Why choose Cushion Supplier When Buying Fibre Wrap Foam Core Cushions?
We have provided cushions to customers throughout the UK for over 10 years now with a lot experience in our family run business of around 40 years and we are proud of our many 5 STAR reviews that separates us from other companies across the internet and personal service for the excellent Fibre Wrap Foam Core cushions we provide. Providing a quick turnaround via our DPD Local couriers, personal service and competitive prices we are confident that when you are looking for Fibre Wrap cushions, you will be over the moon with your new look sofa and our 5 STAR service.
My Cushions Are Cambered And Are More Plump Than My Seam To Seam Border?
Fibre Wrap Foam Core cushions are available in Seat and back cushions and are made bespoke to your sizes either based on your seam to seam (or piping to piping) measurements of your cushion covers. It is important to follow the seam to seam border (or thickness) measurement as the fill weight of the Fibre Wrap Cushion will be taken of by your own cover sizes and the finished cushion will naturally be fuller, have the bulbous look and plumper than your border size given. The Fibre Wrap Foam Core isn't a stocked item and all cushions are made for you and for your cover.
How Do I Know If I Have Fibre Wrap Foam Core Cushions On My Sofa Seats or Back Cushions?
Fibre Wraps is a cushion that has a distinct look and often covered and channelled in a Corovin (Mesh like) casing, which holds the Fibre tight to create the springy and comfortable feeling. There should be a sewn Manufacturing Label attached to your existing Cushion and should have some technical abbreviated jargon stating the filling inside your cushion. If the label states '100% Polyester' 'Fibre WRP' or something similar it is likely you do have Fibre Wrap Cushion or Fibre Only.
The Fibre Wrap Foam Core isn't to be confused with a Foam & Dacron cushion, which is a block of Foam & a layer of Dacron glued to the Foam to avoid a boxy finish and create a softer look.